The 2nd Annual
Tournament of Champions begins NOW! Who will stand victorious on screen? Read all the information below on how to enter and when to start challenging your opponents to a match.

9/8/2012:

***UPDATE***
Tournament results are in!

1st place - Toast99
2nd place - Lydonious
3rd place - Apathetic Truth
4th place - FlabCaptain

Contratulations to all of the winners!

***UPDATE***


Tournament day is here, and with that comes the joy and pain of a somewhat organized and structured bracket style arena tournament. Sounds pretty boring actually when you write it out like that, but text doesn't do this tournament any justice. Speaking of justice, that's exactly what you're after. Below you will find 2 glorious brackets of justice. These brackets will be updated throughout the day and will be your source of joy and saddness. At the end of today we will determine our winner and sing songs of their victories and celebrate throughout the night.

Here's some important information to remember:

Official Tournament of Champions Forum - Staffed throughout the day to speak to your faces. No registration required, just jump in and type things with your fingers.

Tournament time is from 10:00AM - 5:00PM (PST) - During thsi time we will be sending out game invites to all qualified tournament participanats and updating the brackets below as quickly as we can.

Last years highlights

In case you missed our first ever Tournament of Champions, here's the highlights from our inaugural tournament in 2011.



Check back here all day Saturday for updates on the latest winners, video highlights, or possibily none of the previous things I just mentioned. Good luck warriors of the 2d realm.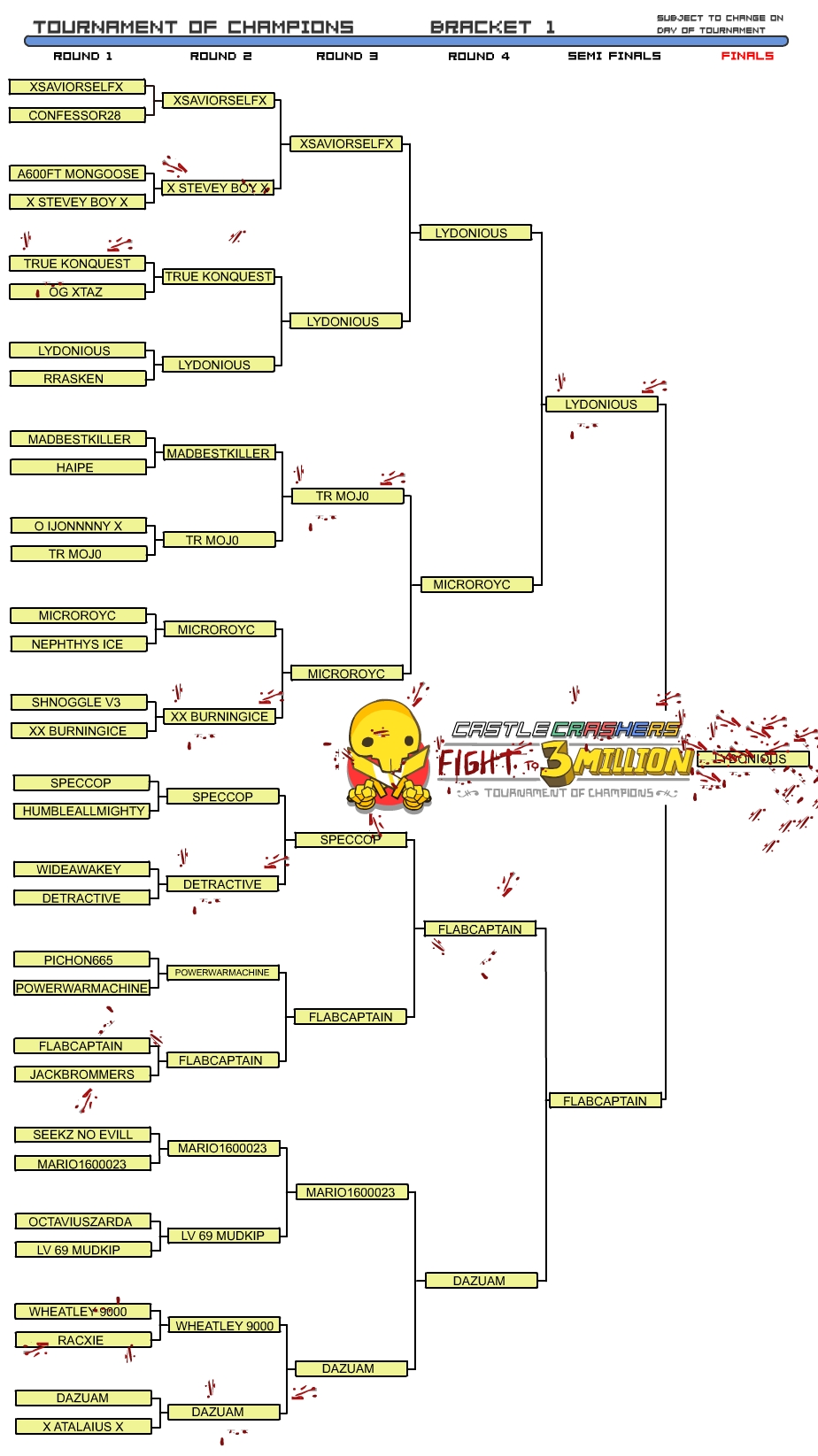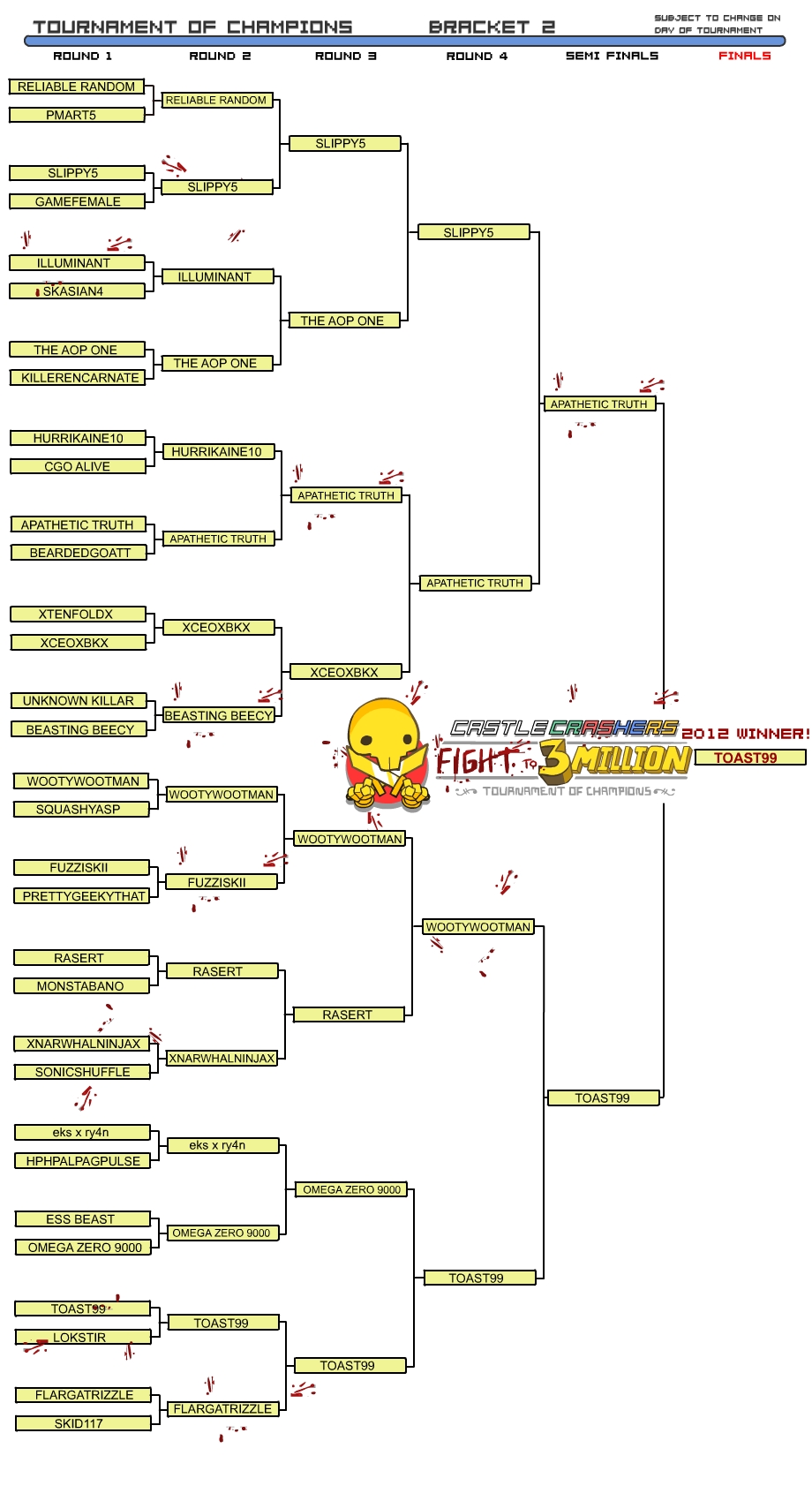 Welcome to The Behemoth's second ever Tournament of Champions! Back by popular demand, this is a tournament to determine once again:


Who is the best Castle Crashers Arena Fighter in all the world??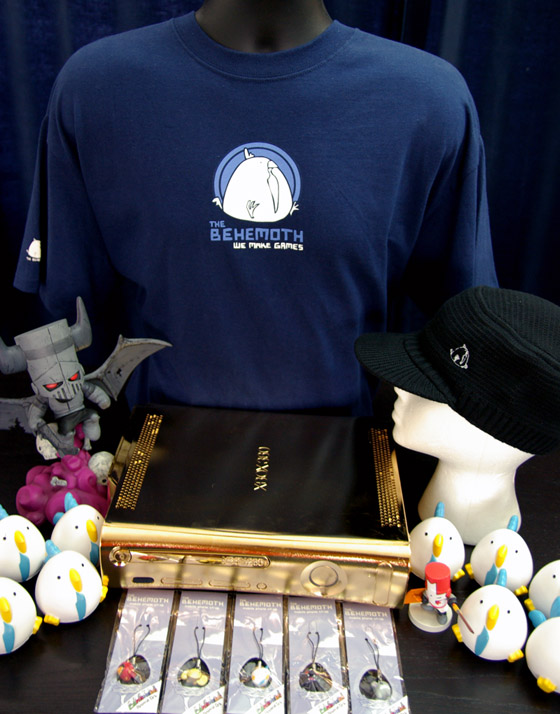 The first place prize of the 2012 Tournament of Champions is.........a Golden Xbox 360!

Yes, a functional Xbox plated in 24k GOLD. If you joined us in last years tournament and were looking for another chance--then look no further! Envision the look on your friend's faces when you invite them over to play a game of Castle Crashers or Alien Hominid. It's like breaking out the good china at a dinner party. Get your party started with your new shiny gold Xbox!

First place will also be getting an army of twenty-five squeezy chickens, one chonku-chonku mini-figurine in the Castle Crashers color of your choice, all nine Castle Crashers mobile phone charms, a warm beanie hat, Behemoth tee and the very new, ultra-cool Necromancer figurine! The Necromancer figurine will be signed by the development crew at The Behemoth

2nd place will also have their very own signed Necromancer figurine, the stylish Behemoth t-shirt, knit beanie hat, one Castle Crashers mobile phone charm of their choice, one chonku-chonku mini-figurines in the Castle Crashers color of their choice and fifteen squeezy chickens for those fifteen days of much needed stress relief.

3rd place will own a set of four Castle Crashers chonku-chonku mini figurines (includes red, blue, green and orange), ten squeezy chickens, a Behemoth t-shirt, knit beanie hat and one Castle Crashers mobile phone charm of their choice.

Everyone in the top 50 will win a prize, and the top 24 will get a special bonus as well. Here's how its going to go down:

To be eligible for the tournament you have to fight your way into the top 100 Weekly Ranked Arena players on the XBLA Castle Crashers leaderboards by noon (PST) on August 17th, 2012. You will have all that week to battle amongst yourselves to claim those spots. The top 100 valid leaderboard entries will compete in 1 on 1 Arena matches, in a single elimination tournament format on Saturday September 8th, 2012 until we have a victor! Everyone who wishes to participate should read the full Terms and Conditions below.

Here are some highlights:

The Tournament is open to all residents of planet earth. Participants under 18 will need permission of their parent or guardian to participate.


1) Players must have an Xbox LIVE Arcade gold gamertag, and the full version of Castle Crashers on XBLA.
2) Players must be available to participate in the Tournament on September 8th, from 8am to 5:30pm (PST)
3) If players qualifying for the Tournament fail to register, are determined to have hacked or modded accounts, or are otherwise disqualified, players beyond the top 100 may be invited to participate, in the order in which they are ranked.
4) Limit one entry per person. And one person playing per gamertag.
5) PLAYERS WITH LEVEL 256 OR OTHER HACKED/GLITCHED/MODDED ACCOUNTS WILL BE INELIGIBLE!!
6) There will be no weapon, item, or animal orb restrictions.
7) There will be no character limitations, except that players may not select the King.
8) It is recommended that you have audio chat enabled and set up.


Tournament Structure

Qualifying Round
To qualify for the Tournament players must be ranked within the top 100 players on the XBLA Castle Crashers Weekly Ranked Arena Leaderboards on August 17th at 12:00pm Pacific Standard Time (United States). Players beyond the top 100 may be eligible for the Tournament at The Behemoth's discretion, in the order in which they are ranked, if players in the top 100 are found to be in violation of any of these terms and conditions of play, including but not limited to having hacked/glitched or otherwise tampered with Castle Crashers or their saved data, or failed to register for the Tournament.

Registration Period
Players qualifying for the Tournament will have one week (8/31/12 - 9/7/12) to register by accepting the terms and conditions in the form that will be sent as a link via Xbox LIVE messaging system after invitations are accepted. All qualifying players will receive an invite from one or more The Behemoth Tournament gamertags, which they must accept. Players may receive additional instructions via Xbox LIVE messaging. If you have any problems accepting the terms and conditions, receiving or accepting the friend invite(s) or reading any messages sent, please contact us immediately at contests[at]thebehemoth[dot]com

Tournament
The first 96 valid registrants will be accepted as Contestants in the Tournament. All other valid registrants will be accepted on a waiting list. Wait-listed registrants may be chosen to participate in the Tournament, based on the order they were listed on the leaderboards. Wait-listed registrants will be chosen as a Contestant if a Contestant is not available to participate at the time of their Tournament match, or is otherwise deemed ineligible. Contestant will be notified via e-mail about the Tournament schedule and their allotted time slot for the first round. Contestant must follow the instructions provided in the notification e-mail to participate.

The Tournament begins September 8th, 2012 at 8:00 a.m. PST and ends September 8th, 2012 at approximately 5:30 p.m. PST

Each match consists of two Tournament Contestants and one Tournament staff member in Castle Crashers XBLA Player Match Arena- Melee mode. The first player to reach 2 wins will move on to the next round. Points/wins involving the Tournament Staff Member will not count towards Tournament wins. In each match, a Tournament Staff member will host the game, invite the two players, and arbitrate the matches. The Tournament Staff member will always select the King character. Players may select any other character, as long as the other player has not selected that character first. Placement for the initial round will be based on the player's rank in the qualifying round. If a player drops out of a match for any reason, this will be considered a loss for that match. If a player does not accept the invite to join the game within the designated time period (5 minutes), this will count as a loss for that round, and the player will be disqualified. Play will continue with subsequent rounds until the final 3 players are determined.

Finals
The Final 3 players will each play each other in three 1 v 1 matches, arbitrated by a Tournament Staff member. After all three players have played each other, the player with the lowest total wins in the finals will be the 3rd place winner. If there is a tie for the lowest number of wins, those players will rematch in a best of 3 match, with the loser becoming the 3rd place winner. The final 2 players will face off in a final best of 3 match to determine the Tournament Champion. Any or all of the final round matches may be video/audio recorded, and this video or stills from the video may be displayed in a manner of The Behemoth's choosing.


It is the responsibility of the player to read and fully understand these rules and policies before participating in the Tournament.
Any person ("you," or "player,") who participates in any Tournament offered by The Behemoth ("Sponsor") in a Tournament to compete against other players or demonstrate skill in Castle Crashers ("the Game") by The Behemoth by such registration and/or participation agrees to be bound by the most current version of these Terms and Conditions of Play. Sponsor may modify these Terms and Conditions at any time, with the modifications to be effective in all individual events, Tournaments, matches, or other entries into play in the Game (collectively, "Tournament,") in progress when, or which begin after, such modification is posted on a Sponsor website. Your continued use of the Game and/or participation in any Tournament offered by Sponsor following any such modifications signifies your acceptance of those modifications. The current version of these Terms and Conditions, including any and all such modifications, if any, may be found at http://www.thebehemoth.com/tournaments. You are responsible for reviewing these Terms and Conditions as set forth therein periodically for any such modifications.

Eligibility for Tournament
To be eligible to enter the Tournament, as of August 30th, 2012, you must:

a) be at least 18 years old; participants under 18 will need permission from their parent or legal gardian.
b) be the named account holder of the Xbox LIVE Gamertag ("gamertag") used in the competition.
c) have the full version of Castle Crashers on Xbox LIVE Arcade. Have access to an Xbox360.
d) have a stable internet connection that allows you to successfully join matches. (see Participation and Tournament Rules)
e) be available on September 8th, 2012 from 8:00am to 5:30pm Pacific Standard Time (United States) (PST). If you are not available at this time, please do not enter the Tournament.
f) be physically located in a jurisdiction in which participation in the Tournament offered on the Game is not prohibited by law.

The regulations governing Tournaments with prizes are determined by individual states and/or other local jurisdictions. Sponsor does not warrant that its products, services and/or Tournaments are in compliance with all regulatory requirements in all localities. Please be certain to use such products and services, and participate in such Tournaments, where you have determined in good-faith that they are in compliance with state, local and other governing laws and regulations. Sponsor is not responsible for any criminal, civil, regulatory or any other penalties you may incur as a result of using a Sponsor product or participating in the Tournaments in violation of the laws of your locality or jurisdiction.

By registering for the Tournament, you agree that Sponsor may display your username and battle statistics and other information collected through the Tournament. By accepting any prize from the Sponsor, you agree to allow the Sponsor to print, publish, broadcast and use, worldwide, in any media and at any time, your name, picture, voice, likeness, and/or biographical information for promotional or related purposes without additional compensation. This includes video or stills of the individual matches.

Your entry constitutes your full and unconditional agreement to and acceptance of these Official Rules and the decisions of Sponsor, which are final and binding on all matters pertaining to this Tournament.

Eligibility for Prize Awards
Prize winners are fully and solely responsible for all applicable taxes and, if outside of the USA, for any required customs fees. If a Tournament winner is suspended, found ineligible, fails to comply with the tournament Rules, or refuses a Prize, that individual's claim to a Prize is forfeited, and Sponsor may decide to award the Prize to another player, but has no obligation to do so.

Persons Not Eligible
The following persons are ineligible to participate in the tournament, or receive any prize offered: employees, immediate family members, agents, and contractors of Sponsor, including parents, siblings, spouses, children, or any other person permanently residing in the same household as such employees, agents, and/or contractors and any other person with access to non-public information regarding the operations of Sponsor or the mechanics of any Tournament concerning the Game by Sponsor. Players who have hacked/glitched/modded or otherwise found to have tampered with their Castle Crashers profile or game data, will be immediately disqualified. In addition, Sponsor specifically reserves the right to disqualify any person that Sponsor, in its sole discretion, determines to have attempted to defraud Sponsor or otherwise abuse Sponsor and/or its products and services, including, but not limited to, violations of these Terms and Conditions of Play or misrepresentation of identity. Sponsor reserves the right to seek damages from any such person to the fullest extent permissible by law.

Qualifying Round
To qualify for the Tournament players must be ranked within the top 100 players on the XBLA Castle Crashers Weekly Ranked Arena Leaderboards on August 17, 2012 at 12:00pm Pacific Standard Time (United States). Players beyond the top 100 may be eligible for the Tournament at Sponsor's discretion, if players in the top 100 are found to be in violation of any of these terms, including but not limited to having hacked/glitched or otherwise tampered with Castle Crashers or their saved data, or failed to register for the tournament.

How to Enter
Players qualifying for the Tournament will be contacted on XBLA messaging with a friend request from one or more Sponsor gamertags (TheBehemothGame, BehemothGames, TheBehemothToC1), and further instructions regarding the tournament. To officially enter the Tournament Contestants must register between August 22nd at 12:00 p.m. Pacific Standard Time (United States) and August 28th, 2012 at 12:00 p.m. PDT (the "Registration Period") by doing the following:

(a) a log into the qualifying gamertag and accept the friend requests from Sponsor gamertag(s)
b) message Sponsor gamertag(s) with your e-mail address. Sponsor will e-mail or message qualifying player with a link, where you must accept these terms and conditions.
(c) fill out the registration form with true and accurate information.
(d) provide parental permission, if necessary

The first ninety-six (96) registrants will be accepted as Contestant ("Contestant", "players") in the Tournament. All other valid registrants will be accepted on a waiting list. Wait-listed registrants will be chosen to participate in the Tournament, based on the order they were listed on the leaderboards. Wait-listed registrants will be chosen as a Contestant if a Contestant is not available to participate at the time of their Tournament match, or is otherwise deemed ineligible. Contestant will be notified via e-mail about the Tournament schedule and their allotted time slot for the first round. Contestant must follow the instructions provided in the notification e-mail to participate.

The Tournament begins September 8th , 2012 at 8:00 a.m. Pacific Standard Time (United States) and ends September 8th, 2012 at approximately 5:30 p.m. Pacific Standard Time (United States) (the "Tournament Period").

Participation and Tournament Rules:
If accepted as a Tournament, you must abide by the following rules in order to participate in the Tournament:

If you have not accepted the friend request(s) of Sponsor gamertags, you will not be able to receive invites to the match and will not be able to sign up for this Tournament. You are required to have your own Xbox LIVE Gamertag and be ready to join the Tournament and your match within the time limit given. If you do not accept the game invite and join the match within the time limit given, you will be disqualified from the tournament and a waitlisted Contestant may be invited (if it is the first round of the tournament) or the other player will receive an automatic win. Sponsor will not be responsible for any Internet/network/electrical/technical malfunction or error that affects your ability to accept the game invite or play within the specified time period.

Technical requirements to participate are an XBox360, Castle Crashers (XBLA), an XBLA Gamertag (which is the same as the one used in the qualifying round); and a stable internet connection that successfully allows you to connect to a west-coast based host in the Game's Player Arena mode.

Because this is played online via XBLA's matchmaking servers, there is no guarantee that matches will be able to start at the specific time they are listed. All rescheduled matches are at the discretion of Sponsor staff members.

Additional Restrictions on Contestants during the Tournament:

Any disorderly behavior disqualifies Contestant from participation, finals, and/or prizes. Tournament staff members are the final arbiters in all situations, and they have the final say in every situation. Please refrain from using harassing, negative, or profane language in either the lobby chat or the game instance.

No cheats or hacks of any kind are to be used. Contestant will be disqualified if they are caught using any cheat, modified account or 3rd party "helper" applications.

Taking advantage of known exploits in the game is also considered cheating. If a Tournament staff member finds that you are cheating, you will be disqualified immediately from the Tournament with no recourse for yourself. Tournament staff members are arbiters in all situations of suspected or actual cheating.

Determination of Battles: The results of each battle offered in the tournament will be determined by the Tournament staff, and such determinations are final. By registering and/or participating in any battle, you agree to be bound by these determinations.

The Tournament rules are subject to change at any time.

Tournament Play:
Each match consists of two Tournament Contestants and one Tournament staff member in Castle Crashers XBLA Player Match Arena- Melee mode. The first of these Contestants to reach 2 wins will move on to the next round. Points/wins involving the Tournament Staff Member will not count towards Tournament wins. There will be no weapon, item, or animal orb restrictions. In each match, a Tournament Staff member will host the game, invite the two Contestants, and arbitrate the matches. The Tournament Staff member will always select the King character. Contestants may not select the King Character. Contestants may select any other character, as long as the other Contestant has not selected that character first. Placement for the initial round will be based on the Contestant's rank in the qualifying round. If a Contestant drops out of a match for any reason, this will be considered a loss for that match. If a Contestant does not accept the invite to join the game within the designated time period of five (5) minutes, this will count as a loss for that round, and the Contestant will be disqualified. Play will continue with subsequent rounds until the final 3 Contestants are determined.

In all matches of the tournament the map is randomly determined.

Final Round
The Final three (3) players will each play each other in three 1 v 1 matches, arbitrated by a Tournament Staff member. After all three Contestants have played each other, the player with the lowest total wins in the finals will be the 3rd place winner. If there is a tie for the lowest number of wins, those Contestants will rematch in a best of 3 match, with the loser becoming the 3rd place winner. The final 2 Contestants will face off in a final best of 3 match with the winner being the 1st place winner and the loser the 2nd place winner. Any or all of the final round matches may be video/audio recorded, and this video or stills from the video may be displayed in a manner of Sponsor choosing.

Prizes:
The first place winner will receive one blinged out Xbox 360 with controller, as well as twenty-five squeezy chickens, one chonku-chonku mini figurine of their choice, all nine Castle Crashers mobile phone charms, a knit beanie hat, a Behemoth t-shirt and a signed Necromancer figurine. The second place will receive a signed Necromancer figurine, fifteen squeezy chickens, one chonku-chonku mini figurine of their choice, all nine Castle Crashers mobile phone charms, a knit beanie hat, a Behemoth t-shirt. The third-place winner will receive a set of four Castle Crashers chonku-chonku mini figurines, ten squeezy chickens, a Behemoth t-shirt, a knit beanie hat and one Castle Crashers mobile phone charm of their choice. The top 24 players will all receive a "special prize" at the Sponsor's discretion. All Contestants qualifying and successfully registering for the Tournament (96-100 Contestants) will receive a prize. Limit to one prize per entrant. Prizes are not transferable, redeemable for cash or substitutable by winners. Sponsor reserves the right to substitute a prize of comparable or greater value, at its sole discretion. Winners are solely responsible for all federal, state and local taxes (including all applicable income and withholding taxes) as well as all other costs and expenses associated with prize acceptance and use not specified herein as being provided. All prize details are at Sponsor's sole discretion. While the Sponsor will make every effort to ensure quality and functionality of prizes, due to shipping and handling beyond our control, no replacements will be made. Contestant may be asked to provide a mailing address to receive their prizes. Winner (or their parent/legal guardian should they be a minor in their place of residence) further acknowledges that Sponsor is not liable for any warranty, representation, or guarantee express or implied, in fact or in law, relative to any prize, including, but not limited to, its quality, mechanical condition, or fitness.

Selection and Notification of Winners:
All winners will be notified by e-mail or telephone at the e-mail address associated with their registration. To claim their prize, winners may be asked to provide mailing information. If a winner is a resident of a state or country that deems the winner to be a minor, the prize may be awarded in the name of the winner's parent/legal guardian, who must grant consent for the winner to accept the prize. Any prize notification or prize returned to Sponsor as undeliverable will be forfeited. Each potential winner may be requested to provide Sponsor with proof that he/she is the Authorized Holder of the e-mail address that corresponds to the registered gamertag used to enter the Tournament. In the event of a dispute regarding who submitted an entry, the entry will be deemed submitted by the Authorized Account Holder of such e-mail account.

Odds:
As the outcome of the Tournaments and battles offered on the Site are directly related to the skill levels of the participants, we cannot assess an individual's odds of winning.

Sponsor Not Responsible for Condition of XBOX LIVE Network

Contestants are advised that the conditions of Xbox LIVE may vary and Sponsor does not in any way control or influence those conditions. Sponsor is not responsible for problems with Contestants' internet access or other drops from play. If a Contestant is dropped from a Tournament game s/he is participating in due to the condition of their Internet connection, that may be considered an automatic loss.

Free and Fair Competition:
You may compete against Contestants with varying abilities who reside throughout the world. Contestants are required to conduct themselves in the spirit of free and fair competition. Any specific requirement or restriction herein notwithstanding, actions unrelated to the reasonable and ordinary play of the Game which are meant to affect the outcome of an individual Tournament, or actions meant to increase a Contestant's odds of winning or improving their placement or prize in a Tournament unrelated to the actual play of that Contestant in that particular Tournament, are prohibited. This includes, but is not limited to, actions which alter Game hardware or software, circumvent mechanical limitations, skill divisions, handicapping systems, entry requirements and/or restrictions, and/or other systems which distribute Contestants into Tournaments based on skill, play history, and/or experience. It does not include the use of optional in-game equipment or the mere exercise of natural talent or developed skill in the ordinary course of play. Contestants who demonstrate a pattern of actions not within the spirit of free and fair competition, in the sole judgment of Sponsor, may be suspended or banned from play in Tournaments and any prizes they may win may be null and void.

Tournament Brackets:
In the Tournament, Sponsor may assign you to a Tournament bracket and/or prize structure (collectively, "Bracket") automatically based on various factors. You will compete against other Contestants who are within your Bracket. Brackets are subject to change at any time and may change dynamically without prior notice, although once an individual Tournament begins, the conditions for entry into that Tournament will not be changed.

Game Play Features:
Just as in traditional sports, the quality of equipment can affect the outcome of play. The Game may offer Contestants the opportunity to acquire equipment that may potentially improve their performance, and they may gain a competitive advantage there from. All available Weapons, Characters and Animal Orbs will be allowable in the tournament. Contestants are responsible for having their character(s) ready with their chosen weapon and/or animal orb prior to the Tournaments start. Sponsor is not responsible if a Contestant is not able to select a favorite character at the start of the match, due to the other Contestant having selected that character first.

Tournament Timeframes and Resolution:
Any Tournament offered by Sponsor on or related to this Game, and the rules related thereto, are subject to change without further notice, although entry parameters and prize payouts will not be changed once an individual Tournament begins unless it is determined that the parameters or prize structure have been affected by human error, deliberate tampering, or mechanical failure. It is anticipated that each Tournament will be completed within 9 hours after having been initiated. In addition, and notwithstanding anything to the contrary herein, Sponsor at its sole discretion and for any reason whatsoever, reserves the right to cancel or extend any and all Tournaments that may have been offered or otherwise initiated, whether completed or otherwise.

If the Tournament results in a tie among one or more participants, the tie will be resolved at Sponsor's sole discretion.

Tournament Limitation:
Sponsor reserves the right to limit the number of Tournaments, whether in general or of any particular type or Bracket, that a Player may enter in any given time period. Attempts to circumvent any such limitation, including but not limited to the use of multiple gamertags by a single individual, are prohibited and are a violation of these Terms and Conditions.

Legality:
You are subject to all laws of the country, state, local and/or other jurisdiction in which you reside and from which you participate in any Tournament, and are solely responsible for obeying those laws and regulations. You agree that Sponsor cannot be held liable if laws and regulations applicable to you restrict or prohibit your participation in the Game or in individual Tournaments. Sponsor makes no representations or warranties, implicit or explicit, as to your legal right to participate in any Tournament offered by Sponsor nor shall any person affiliated, or claiming affiliation, with Sponsor have authority to make any such representations or warranties.

Please be certain to use such products and services where you have determined in good-faith that they are in compliance with local, state and other governing body laws and regulations.

Promotional Activities:
By registering for the Tournament, you agree that Sponsor may display your gamertag and Game play statistics, including video/audio of the matches you participate in. By participating in the Tournament, you further agree to allow Sponsor to print, publish, broadcast and use, worldwide, in any media and at any time throughout the universe, your name, picture, voice, likeness, and/or biographical information for promotional purposes without additional compensation (except as may be prohibited by law).

Information Required:
Sponsor, at its sole discretion, may require additional personal or other information such as your legal name, permanent residential address, phone number, email address, and alias to insure compliance with regulatory or other reporting requirements. Any Contestant who resides outside of the United States is solely responsible for all regulatory, taxation or any other reporting requirement their country of residence may require. Sponsor shall not be responsible for any failure on the part of the Contestant to report any information required.

Accuracy of Information:
You represent and warrant that all information you supply to Sponsor is complete and accurate. The use of multiple Legal Names, other than reasonable variation in a given name is explicitly prohibited and any potential prize which would be awarded to a Contestant or Contestants using such prohibited data shall be null and void. Using multiple gamertags to create multiple entries into the Tournament offered on the Game by the same person, is likewise explicitly prohibited and any potential prize which would be awarded to a Contestant or Contestants using such prohibited data may be null and void. Knowingly submitting incomplete or inaccurate information may result in immediate suspensions and/or termination of your place in the tournament and forfeiture of any prizes to which you otherwise may have been entitled.

Privacy Policy:
Sponsor will not intentionally disclose any personally identifying information about you (including information submitted regarding your given name, your e-mail address, information obtained by Sponsor from cookies, and information regarding your IP address) to third parties without your consent except where Sponsor, in good faith, believes such disclosure is necessary to comply with applicable laws or regulations or to enforce applicable Terms and Conditions or other rules. Sponsor reserves the right to publish the name or alias you supply for use on public leaderboards or for other obviously public purposes. You agree that Sponsor may publish factual statements, including but not limited to scores, Tournament rankings, and other Game-related information, related to such supplied name or alias so long as such information does not disclose identity-related information you have not chosen to make public.

Dispute Resolution and Jurisdiction:
These Terms and Conditions will be governed and construed in accordance with the laws of the State of California, irrespective of any principles of conflicts of law. By registering for the Tournament and/or participating in any video game battle as a part of the Tournament, you agree that any dispute that cannot be resolved between the parties shall be resolved individually, without resort to any form of class action. You further agree that any legal action arising from any dispute shall proceed only in the courts located in the Superior Court of the County of San Diego in the State of California, and you hereby submit to personal jurisdiction and venue in such courts for the purposes of litigating any such action.

Indemnification:
As stated elsewhere in these Terms and Conditions, you are solely responsible for ensuring your participation in the Contest and the Contest itself is legal under the law of your jurisdiction. If Sponsor is forced to defend itself in any criminal, civil, regulatory or any other adjudicatory action by a third party in your jurisdiction as a result of your participation in the Contest, you agree to completely and wholly indemnify and/or reimburse Sponsor for all damages Sponsor may incur, including but not limited to attorneys' fees, civil damages, criminal fines and regulatory fees.

Disclaimer:
If for any reason the Tournament is not capable of running as planned, including bugs, tampering, unauthorized intervention, fraud, technical failures or force majeure that corrupt or affect the administration, security, fairness, integrity, or proper conduct of this Tournament, Sponsor reserves the right, at its sole discretion, to disqualify any individual who tampers with the Tournament and to cancel, terminate, modify or postpone the Tournament until a later date. Sponsor assumes no responsibility for any error, omission, interruption, deletion, defect, delay in operation or transmission, communications line failure, or other failure of or related to the software platform on which the Tournament is played. Sponsor is not responsible for any problems or technical malfunction of any telephone network or lines, computer online systems, servers, or providers, computer equipment, software, failure of any e-mail or entry to be received by Sponsor on account of technical problems or traffic congestion on the Internet or at any Web site, or any combination thereof, including any injury or damage to participant's or any other person's computer related to or resulting from participation or downloading any materials in this Tournament.

CAUTION: ANY ATTEMPT BY AN ENTRANT TO DELIBERATELY DAMAGE ANY WEB SITE OR APPLICATION OR TO UNDERMINE THE LEGITIMATE OPERATION OF THE TOURNAMENT IS A VIOLATION OF CRIMINAL AND CIVIL LAWS AND SHOULD SUCH AN ATTEMPT BE MADE, SPONSOR RESERVES THE RIGHT TO SEEK DAMAGES FROM ANY SUCH ENTRANT TO THE FULLEST EXTENT PERMITTED BY LAW.

Entire Agreement:
These Terms and Conditions, in connection with such other obligations, rules, terms, and conditions, if any, detailed in writing at http://www.thebehemoth.com/tournaments, constitute the entire agreement between you and Sponsor and cannot be modified by you. Nothing in this subsection shall be construed to prevent Sponsor from modifying these Terms and Conditions.

Severability:
If any portion of these Terms and Conditions is deemed void or unenforceable, then that provision shall be deemed severable from these Terms and Conditions and shall not affect the validity and enforceability of the remaining provisions.

Current as of 8/21/2012 Subject to change without notice.